Learn more about Camp Burbalac's grounds, amenities and campground rules.
Map of Camp Burbalac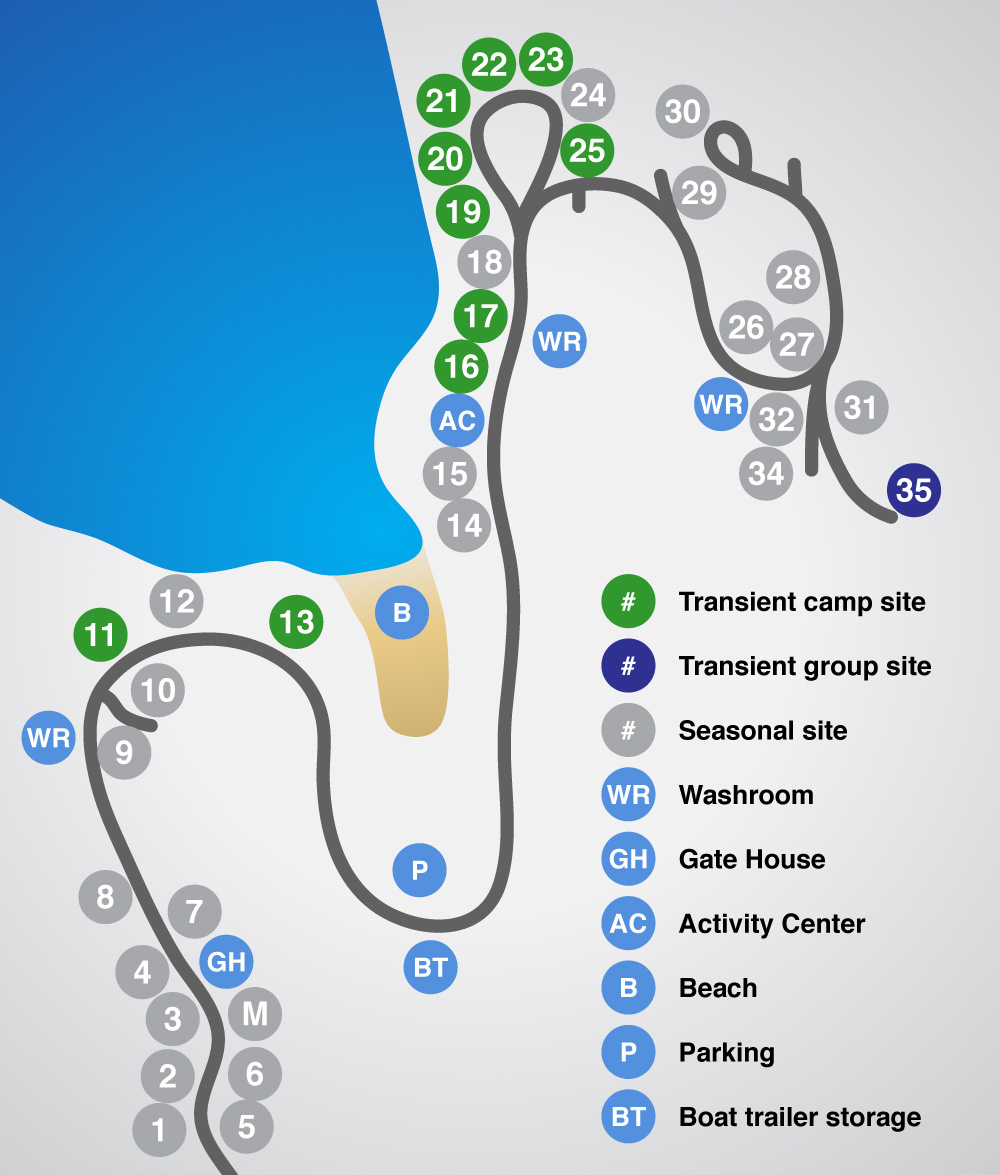 Amenities
10 transient sites, 1 group site and 24 seasonal sites
All sites will accommodate either a tent or trailer
Electricity on each site
Fire pit on each site
Picnic table on each site
Lake view sites
Washrooms with hot and cold running water, flush toilets and showers
Refrigerators and freezers
Covered pavilion with fireplace
Sandy beach with volleyball court and kids playground
Clean lake for swimming and fishing
Roped off wading area for small children
Diving board
Aluminum rowing boat and canoe rentals
Boat docking
Two children's playgrounds
Horseshoe pit
Nature paths
15 acres of wooded parkland
Important Information
Tap water meets Ministry of Health requirements for drinking. Bottled water is available at the Woodview General Store or in Lakefield.
There is no garbage collection – you are responsible for the removal of all garbage. Keep bags secured in your vehicle to avoid racoons. Garbage can be taken to the local dump.
Campground Rules
PARENTS ARE RESPONSIBLE FOR THEIR CHILDREN AT ALL TIMES. The beach is not supervised and a parent or guardian should be with a child at all times.
Please do not swim alone at the diving rock.
Pets are allowed and must be leashed at all times. You must clean up after your pet and swimming is available at the docks only. Pets are not allowed on the beach or at the Activity Center at any time.
Alcoholic beverages and illegal drugs are not permitted in the Camp.
Bicycles must be ridden safely at all times and children must wear helmets as required by law. Bicycles are not allowed at the beach area or Activity Center.
Smoking is only allowed on your own campsite. Please clean up any smoking-related garbage.
Please dispose of all wash water in the leaching pit located on your site.
There are fridges and freezers located in each utility room. Please label your food and wipe up any spills.
Please drive SLOWLY within the camp (walking speed).
Canoes must be launched from the east side of the beach where they are stored. All canoes must have a safety kit as required by law.
QUIET TIME is between 11 p.m. and 8 a.m.
Campfires are only allowed between 6 p.m. and 8 a.m. THIS RULE IS STRICTLY ENFORCED.
Save